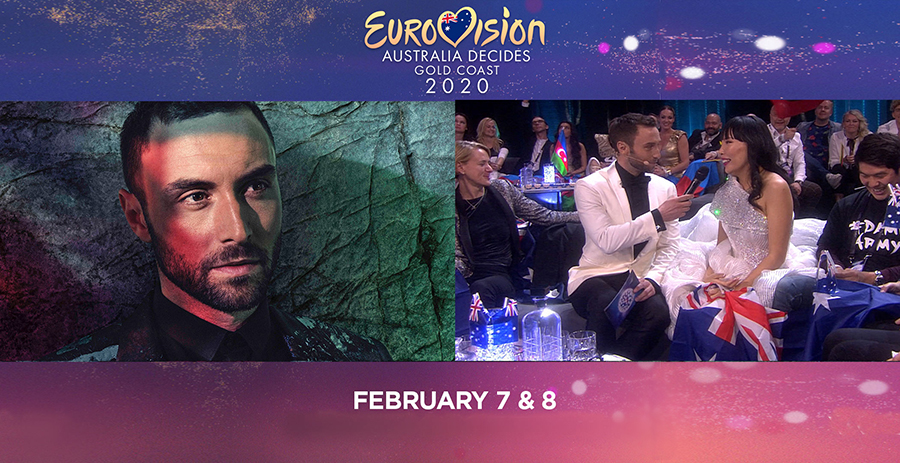 Måns Zelmerlöw to grace Eurovision – Australia Decides 2020
SBS and production partner Blink TV today revealed Swedish pop phenomenon and winner of the Eurovision Song Contest 2015 Måns Zelmerlöw is heading to the Gold Coast to perform and be one of the Jury members for Eurovision – Australia Decides next month.
Swedish singer, songwriter and TV presenter Måns Zelmerlöw masterminded one of the most memorable wins in Swedish Eurovision Song Contest history with his performance of the uplifting multi-platinum single Heroes. After winning, Heroes peaked at #1 on iTunes in 21 countries and his tour across Europe took him to 22 cities – most of them at sold out venues. In 2016, he co-hosted the song contest in Stockholm, Sweden where Dami Im made history winning the Jury vote and coming second overall with her performance of Sound of Silence.
Måns Zelmerlöw said: "I'm so excited to come back to my favourite country to perform, and to be a guest judge on the National Eurovision selection show! Australia has sent great songs ever since they joined the Eurovision Song Contest and I think 2020 could be THE year. I might sing a line or two from my winning song from 2015 and from my newest single, Walk with Me, featuring the wonderful Dami Im. Can't wait to see you all!"
READ MORE
Joining him in Australia is Eurovision boss Jon Ola Sand who will step down as Executive Supervisor after Rotterdam 2020. Over the past decade, Jon Ola has become synonymous with the Eurovision Song Contest among the hundreds of millions of viewers who've watched him throw to the voting segment with the iconic phrase "take it away."
Hosted on the Gold Coast and broadcast live and exclusive on SBS on Saturday 8 February, the national selection, now in its second year, showcases ten well-known Australian artists, performing original songs, for the chance to represent the country at the Eurovision Song Contest.
Aussie icon Vanessa Amorosi, powerhouse entertainer Casey Donovan, rising First Nations artist Mitch Tambo, glam rock star iOTA, art pop auteur Montaigne, alternative artist Didirri, The Voice winner Diana Rouvas, Australia's Got Talent winner Jack Vidgen, 19-year-old emerging singersongwriter Jordan-Ravi and Taiwanese-Australian multi-media artist Jaguar Jonze.
The winner of the inaugural Eurovision – Australia Decides Kate Miller-Heidke will return to the stage where it all began to perform Zero Gravity, while powerhouse vocalist and Eurovision 2016 runner up Dami Im will take to the stage with a brand new track.
SBS Commissioning Editor for Entertainment and Australian Head of Delegation Josh Martin said: "We're thrilled to welcome Måns and Jon Ola to Australia for our national selection show. Normally, Australia heads to Europe, but in February Europe is coming to Australia! Måns is one of the all-time Eurovision greats and fans are in for a real treat. And it's with a mix of sadness and excitement that we welcome Jon Ola to our shores as his stewardship of Eurovision approaches the end. Since 2010 he has overseen a phenomenal period of change and growth in the contest, and all of us here at SBS and around Australia will be forever thankful that we were invited to the party!"
Creative Director of Eurovision – Australia Decides and Director of Blink TVPaul Clarke said: "Hej Hej, welcome Måns! He was a game changer at Eurovision when he won in 2015 and it will be like a Eurovision masterclass for our artists and audience to see him performing on the Gold Coast. It's a dream come true for Dami Im to release a song with Måns, and their duet on the night will be one of the highlights of the show. We also look forward to hosting Jon Ola Sand at Australia Decides – he's been a great advocate for Australia's involvement in Eurovision over the past decade."
Full pm attached, highrez photos attached.
Follow and listen to Måns here:
The Swedish singer, songwriter and TV presenter, Måns Zelmerlöw, will release his eighth album, "Time", October 18. The album is a chronological journey from a couple of years ago – sometimes even earlier than that – up until now.
"I've always wanted to make an album that tells a story from start to finish. It starts with a letter from myself to my younger self as a young boy, then goes to quite a dark place, before things turn around for the better again", says Zelmerlöw.

"In an age when most artists focus on a couple of singles, this album is special in that way that every song could be described as a 'key track'".
They are all important chapters in the story Zelmerlöw is telling, and even though the songs are mainly connected by the lyrics, there is also a seamless flow to the music, which seems to tell a story of its own.
Nearly three years have passed by since Måns Zelmerlöw released his latest album, "Chameleon". Several singles have assured that the album has remained in the spotlight.
The album itself was also a success, and songs like "Happyland" opened a lot of people's eyes to the fact that he was moving towards a more personal expression.
In addition to having become a dad to Albert (who turned one year old in May), Zelmerlöw has been busy co-writing material with some of the best British writers around. This has, as a result, spurred Måns, who is based in Surrey, England, to reach a new level as a lyricist, composer, and vocalist.
He says: "Early in the process, I decided to focus on things that really matter to me, and I firmly believe that my new songs reveal more of the true me. "The fact that I am writing about stuff that means a lot has, in return, helped me to develop as a singer. That, and touring".
After having performed his European hit single, "Fire In The Rain", when hosting the Eurovision Song Contest, Måns embarked on his second European tour, which was a major success. The arrival of Albert got understandably all his attention for quite a while, before Zelmerlöw returned to writing.
READ MORE
"The fact that several of my co-writers didn't know my story meant that they didn't have any preconceived ideas about me. They just want to do their best, and as do I. In my opinion, we have found a sound that's very 2019, but still is recognizable as me", says Zelmerlöw.
The first single of the new album, "Walk With Me" (a duet with the Swedish pop phenomenon Dotter), was released in March. The next single was the double A-side, "Better Now", about not being the man he used to be, and "Grow Up To Be You", which was written for his son.
The new single, "One", is another favourite of his.
"It's about a couple that fights a lot in order to let it all out, to be able to continue with a clean slate and an even deeper understanding, and hopefully an ability to love each other even more, and be "the exception to the rule". So, in the end, it's a happy song. Jon and I went to a little house on the countryside where Mac & Phil's studio was located. They picked up the song like it was a script. That felt new to me, and really fits the idea behind album".
On an album chock-full of highlights, the singles are just the icing on the cake. There is a song, which was written for Zelmerlöw's younger self ("On My Way"), a song about low self-esteem ("Mirror") and another song to Zelmerlöw's son ("You and I"). The songs "Faker" and "Careless" are merciless heartbreakers about trying, and initially failing, to move on after a failed relationship."Real Life" could have been an alternative title track.
This is very much a collection of songs about things that matter, like love, parenthood, finding a place in this world where one can feel good about oneself and pass it on to others.
A lot of the songs were co-written by Zelmerlöw together with Jon Eyden.
"I now consider him my go-to guy, "my Guy Chambers" if you will. We write so well together, and we really understand each other. I look forward to collaborating with him a lot more in the future!", Zelmerlöw beams.
Some of the sessions took place during songwriting camps in Battersea, others took place in Peter Gabriel's legendary Real World studios, just outside of Bath.
"Our main influences originate from people like Lewis Capaldi and James Arthur. Like James, I wanted to write personal songs that people can still relate to, and I do feel that the lyrics on "Time" are a lot stronger than anything I've done before".
In addition to the aforementioned inspirations, there will probably always be a Coldplay influence in Zelmerlöw's music, while some may be able to detect a touch of The Police in a couple of songs.
"Musically, I feel that I'm more sure of myself, and more secure in my own voice, as well as production wise. As long as I can keep writing and singing songs, witch resonate with me, and hopefully others, and to perform live with my band, I will remain a happy man".
In short, the once young and inexperienced Swedish pop phenomenon with the winning smile has turned into a full-blooded pro.
"I'm really proud of this album. I believe it's the best I've ever done, and I'm excited to share it with everyone else".